$59 OFF
If you book online today!
Book Online & Save
Fill out your details below and we'll contact you ASAP!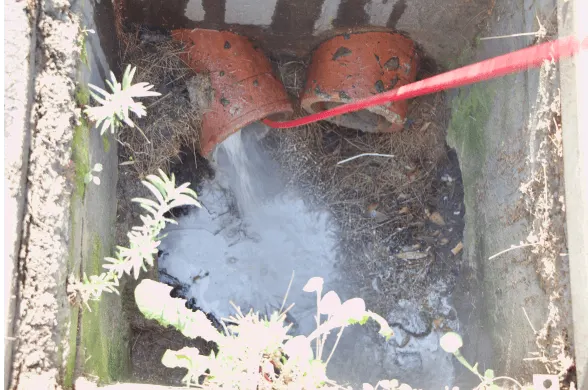 The Wilco Blocked Drains Plumber
If you happen to have a cracked pipe in the Sydney area and it is causing flooding to your home or business, you need to shut off the main water valve! Burst pipes are known to cause major disruptions, not only in the household but also for business operations. Repairing a burst pipe is not something to be taken lightly, it needs to be taken care of professionally and efficiently to successfully fix the problem avoid potential damages and costs.
Enquire Now
Blocked Drain Services in Sydney by Wilco Plumbing
If you find yourself in the unfortunate situation of having a blocked drain in the Sydney area, causing flooding in your home or business, it is crucial to take immediate action. Blocked drains can lead to significant disruptions, not only in residential settings but also in commercial operations. Effectively addressing and repairing a blocked drain requires professional assistance to minimise damages and associated costs.
At Wilco Plumbing, we understand the urgency and stress that comes with a blocked drain causing flooding in your property. Our team of experienced plumbers is ready to provide prompt and reliable assistance with our blocked drain services in Sydney.
We offer 24/7 emergency plumbing services, including for blocked drains. Our team is available around the clock to respond to your call and arrive at your location swiftly.
Your Highly Rated Blocked Drain Plumber in Sydney
Wilco Plumbing has established itself as one of the highly rated blocked drain plumbers in Sydney for several compelling reasons. Our commitment to excellence, customer satisfaction, and quality service sets us apart from the competition.
Years of Experience: With years of experience in the plumbing industry, we have encountered and successfully resolved numerous blocked drain issues. Our expertise allows us to quickly identify the root cause of the problem and implement effective solutions.
Seasoned and Expert Plumbers: Our team consists of skilled and licensed plumbers who are highly trained in dealing with blocked drains. We possess the knowledge, technical expertise, and problem-solving abilities to handle even the most complex drainage issues. We invest in ongoing training and development to ensure our plumbers are up to date with the latest industry practices.
Access To Tools and Technology: At Wilco Plumbing, we leverage advanced tools and technology to diagnose and address blocked drains. Our state-of-the-art equipment enables us to accurately locate blockages, assess their severity, and choose the most appropriate method for clearing them. This ensures efficient and effective results, saving you time and money.
Complete and Reliable Services: We offer a comprehensive range of services related to blocked drains. Whether it's a minor blockage or a major drainage issue, we have the expertise to handle it all. From drain cleaning and hydro-jetting to pipe relining and excavation, our plumbers can tackle any challenge, providing tailored solutions to meet your specific needs.
Fast Response and Emergency Services: We understand the urgency of blocked drain situations and the inconvenience they can cause. That's why we prioritise prompt response times and offer emergency plumbing services. Our team is available 24/7, ensuring that we can address your blocked drain issues promptly and minimise any disruptions to your daily routine.
No Hidden Cost Pricing: At Wilco Plumbing, we believe in transparency when it comes to pricing. We provide upfront and honest quotes, ensuring that there are no hidden costs or surprises. Our pricing is competitive and fair, reflecting the quality of our services and the value we deliver to our customers.
Customer Satisfaction: Customer satisfaction is at the core of our business philosophy. We strive to exceed our customers' expectations by delivering exceptional service, maintaining open communication, and providing long-lasting solutions. Our commitment to professionalism, reliability, and personalised attention has earned us numerous positive reviews and repeat business.
Why We Are The Sydney Blocked Drain Specialists
At Wilco Plumbing, our expertise is in clearing blocked drains. We may develop in-depth knowledge and competence in identifying and removing all kinds of blockages thanks to this targeted method. We are knowledgeable about the complexities of drain systems and have the instruments and know-how to remove even the most difficult clogs.
Our team utilises advanced diagnostic techniques to accurately identify the cause and location of blockages. We employ CCTV drain cameras to visually inspect the inside of pipes, enabling us to pinpoint the problem areas and assess their severity. This precise diagnosis allows us to tailor our solutions for optimal results.
We provide a wide array of practical options to clear blocked drains. We have the knowledge and tools to solve any blockage situation, whether it involves age-old techniques like pipe relining and high-pressure water jetting or more recent ones like classic drain snaking. Our plumbers will evaluate the particular circumstance and suggest the best option for a long-lasting fix.
You can count on expert service, dependable solutions, and a dedication to effectively addressing your blocked drain difficulties when you hire Wilco Plumbing as your blocked drain professional in Sydney. Count on us to maintain the seamless operation of your drains as your reliable partner.
Signs of a Blocked Stormwater Drain in Sydney: What to Look For
In Sydney, a blocked stormwater drain can cause various issues and should be addressed promptly to prevent further damage. Here are some common signs that indicate a blocked stormwater drain:
● Standing Water
● Overflowing Gutters or Downpipes
● Unpleasant Odours
● Gurgling Sounds
● Slow Draining
● Erosion or Water Damage
If you observe any of these signs indicating a blocked stormwater drain in Sydney, it is essential to seek professional assistance from a reputable plumber specialising drainage systems like Wilco Plumbing. Our team has the expertise and specialised equipment to diagnose and clear the blockage, ensuring proper flow and preventing potential water damage to your property.
Unblocking Drains: How We Fix Blocked Drains
At Wilco Plumbing, we specialise in unblocking drains and providing effective solutions to restore the proper flow of water. Here's how we fix blocked drains:
● Thorough Inspection
● High-Pressure Water Jetting
● Drain Snaking
● Pipe Relining
● Excavation and Replacement
● Preventative Maintenance
At Wilco Plumbing, we are committed to providing efficient and long-lasting solutions for blocked drains. Our skilled plumbers combine their expertise with state-of-the-art tools and techniques to deliver effective results. We prioritise customer satisfaction and strive to minimise disruption to your daily routine while restoring the functionality of your plumbing system.
Understanding the Cost of Blocked Drain Repairs
When it comes to the cost of blocked drain repairs, several factors can influence the overall expenses. Understanding these factors can help you make informed decisions and plan your budget accordingly. Here are the key aspects to consider:
● The severity of the Blockage
● Location and Accessibility
● Cause of the Blockage
● Required Equipment and Techniques
● Additional Repairs or Replacements
● Emergency or After-Hours Services
● Professional Plumbing Services
It's essential to consult with a reputable plumbing company, like Wilco Plumbing, to assess your specific situation and provide an accurate cost estimate.
Clear Drains Vs Blocked Drains: The Importance Regular Maintenance
Clear drains are essential for the proper functioning of your plumbing system and for maintaining a healthy and hygienic environment. Regular maintenance plays a crucial role in preventing blocked drains and ensuring the smooth flow of wastewater.
● Prevention of Blockages
● Smooth Water Flow
● Prevention of Foul Odours
● Protection of Plumbing System
● Longevity of Fixtures and Appliances
● Health and Hygiene
● Cost Savings
Wilco Plumbing offers professional drain cleaning and maintenance services to keep your drains clear and functioning optimally. Our experienced plumbers utilise advanced techniques and equipment to remove debris, buildup, and potential blockages, ensuring the longevity of your plumbing system.
Our Blocked Drain Pipe Relining Services
When it comes to blocked drain pipe relining, Wilco Plumbing offers superb services that provide long-lasting solutions for your plumbing needs. Pipe relining is a non-invasive method that allows us to repair damaged or deteriorated pipes without the need for extensive excavation.
We utilise state-of-the-art technology and equipment for our pipe relining services. This includes high-quality resin and specialised lining materials that adhere to the inner walls of the existing pipe, creating a new, durable pipe within the old one. Our advanced techniques ensure a reliable and efficient pipe relining process.
At Wilco Plumbing, we take pride in delivering superb blocked drain pipe relining services that exceed customer expectations. Our commitment to quality workmanship, advanced technology, and customer satisfaction sets us apart as a trusted provider in the industry.
If you're dealing with blocked drains and are considering pipe relining as a solution, contact Wilco Plumbing today
Blocked Drains FAQs
Why do drains get blocked?
What are the common causes of blocked drains?
What is the process for blocked drain repair?
How much does it cost to fix blocked drains?
How can Wilco Plumbing help with blocked stormwater drains?
What is the typical cost of fixing a blocked drain?