$59 OFF
If you book online today!
Book Online & Save
Fill out your details below and we'll contact you ASAP!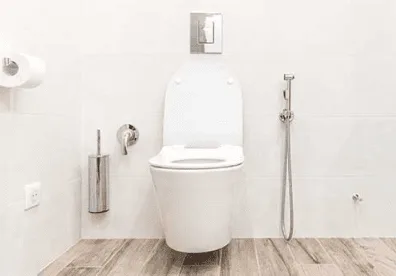 The Wilco Toilet Plumber
Are you experiencing any of the following toilet system problems that need to be repaired?
Water leaking onto the floor when you flush the toilet?
Leaking water into the bowl?
A sticky toilet button that stays down when you flush the cistern?
The toilet sounds like it is still running when it has been a while since you flushed it?
A loose or broken toilet seat?
Is the toilet really slow to fill with water?
Have a wobbly toilet bowl when you sit on it?
 
Enquire Now
Toilet issues can cause absolute havoc in a household, to save you the trouble it is recommended to leave it up to an expert! Regardless of the problem, Wilco is here to help with their qualified technicians and fully equipped vans ready to take on any job.
Our plumbers will inspect and try to find the root cause of the problem and provide you with a fixed price to carry out the work, whether it is a repair or a replacement. Our trusted plumbers in Sydney always provide long-lasting solutions that meet the needs of your household.
Here at Wilco we operate on a 24/7 basis, so in case of an emergency you can be sure to rely us! We repair, supply & install all leading brands of toilets which include:
Caroma
Fowler
Villeroy
Bosch
Vitra
Johnson & Suisse
Raymor
Push and much more      
 
Toilet Repairs & Installations
Regarding reliable and professional plumbing services in Sydney, look no further than Wilco Home Services. We're a trusted name in the industry, dedicated to providing top-notch toilet repairs in Sydney for residential and commercial properties. With a focus on efficiency, quality workmanship, and customer satisfaction, Wilco Home Services has earned its reputation as a go-to plumbing service provider.
Our commitment to excellence runs deep as a family-owned and independently operated business. From simple toilet repairs to complete installations, we bring experience and expertise to every job. Our highly skilled plumbers are ready to tackle any toilet-related challenge professionally and carefully. No matter the size of the project, we're here to address your plumbing needs promptly and effectively.
With the Wilco Warranty backing our services, you can count on us to stand by the quality of our work. Our licensed and insured plumbers bring a commitment to excellence to every toilet repair in Sydney. From emergencies to routine maintenance, we're here to complete the job promptly, respecting your time and property.
Professional Toilet Repair and Installation Services
Welcome to Wilco Home Services, your trusted partner in providing comprehensive and reliable toilet repair and installation services in Sydney. Dedicated to excellence and client satisfaction, we are your go-to experts for all your toilet-related needs.
Common Toilet Problems
Is your toilet causing you trouble? Here are some of the most common issues we encounter:
●  Blocked Toilets: A blocked toilet can lead to unpleasant situations and inconvenience. We can perform blocked toilet repair in Sydney and restore your toilet's functionality, whether due to excessive toilet paper or foreign objects.
●  Leaking Toilets: Leaky toilets can waste significant water and increase water bills. Our experts can provide leaking toilet repairs in Sydney, ensuring water conservation and preventing potential water damage.
●  Running Toilets: If your toilet keeps running even after flushing, it's likely wasting water. This problem can be caused by a faulty flapper or other internal components, which we can promptly fix.
●  Weak Flushing: A weak flush can leave waste behind and require multiple flushes, impacting hygiene and water efficiency. We'll diagnose the cause and restore the flushing power of your toilet.
●  Phantom Flushing: A "ghost flush" occurs when the toilet refills itself as if it were flushed. It's often caused by a flapper that isn't sealing properly, and our team can address it to prevent water wastage.
●  Condensation: If your toilet tank sweats and accumulates moisture, it can create puddles and potential water damage. We can provide solutions to prevent condensation and its associated issues.
●  Unusual Noises: Strange noises from your toilet can indicate various issues, from loose parts to water pressure problems. Our professional plumbers can pinpoint the source of the noise and resolve it effectively.
●  Cracks and Damage: Cracks in the toilet bowl or tank can lead to leaks and structural instability. Our team can evaluate the scope of the damage and recommend repair or replacement options.
●  Inefficient Flapper: A worn-out or incorrectly sized flapper can lead to inconsistent flushing and water wastage. We'll replace the flapper to ensure your toilet flushes properly.
At Wilco Home Services, we've seen it all regarding toilet problems. No matter the issue, our experienced plumbers have the knowledge and tools to provide efficient solutions and restore your toilet's optimal performance. Contact us today to schedule a service and bid farewell to your toilet troubles.
Toilet Repair Services
Is your toilet experiencing issues like slow flushing, constant running, or strange noises? Our toilet repair services are designed to restore your toilet's functionality and eliminate any nuisances that disrupt your daily life. From fixing faulty flush mechanisms to addressing leaks that can lead to water damage, we have the mastery and tools to handle a wide range of toilet repairs. We pride ourselves on delivering prompt and dependable solutions, ensuring your toilet returns to optimal performance in no time.
Toilet Installation and Replacement
Whether renovating your bathroom or upgrading your toilet, our installation and replacement services are here to meet your needs. Our experienced plumbers ensure that your new toilet is installed precisely, following industry best practices to ensure it operates smoothly for years to come.
Suppose you're considering replacing an old and inefficient toilet. In that case, our team can guide you through the process, helping you choose a modern and water-efficient option that suits your specific requirements and preferences.
Toilet Upgrades and Modernisation
As plumbing technology advances, so do the toilet upgrades and modernisation options. If you want to enhance your bathroom's aesthetics and functionality, we can help you explore various features such as dual-flush systems, touchless flushing, and more.
Our experts will provide recommendations based on your preferences and ensure a seamless installation of any upgrades you choose. With our commitment to staying updated on the latest industry trends, we can help you convert your bathroom into an efficient and contemporary space.
Toilet Maintenance Tips
At Wilco Home Services, we believe in proactive maintenance to extend the lifespan of your toilet and prevent potential issues. Here are our toilet maintenance tips:
●  Avoid flushing non-flushable items such as wipes, cotton balls, and feminine hygiene products.
●  Regularly check for leaks around the toilet's base and under the tank.
●  Test the toilet's flushing mechanism and handle to ensure smooth operation.
●  Keep the area around the toilet clean and dry to prevent water damage and mould growth.
●  Check the water level in the toilet tank and adjust the float if necessary to avoid constant running.
●  Occasionally, pour a bucket of water into the bowl to test the toilet's drainage and prevent blockage.
●  Inspect the toilet's components for signs of wear and tear, such as a deteriorating flapper or fill valve.
●  Consider using a toilet bowl cleaner that's safe for the material of your toilet to prevent stains and buildup.
●  Address any minor issues promptly to prevent them from escalating into major problems.
● Schedule regular plumbing maintenance to ensure your toilet and entire system are in top condition.
By following our maintenance advice, you can ensure that your toilet remains trouble-free and continues to operate efficiently.
Why Choose Us for Toilet Repairs & Installations?
Wilco Home Services is your trusted partner regarding toilet repairs and installations in Sydney. Here's why you can confidently choose us for all your toilet plumbing needs:
Experienced Toilet Plumbers
Our team of experienced toilet plumbers brings knowledge and expertise to every project. With years of hands-on experience under their belts, they've encountered and solved many toilet-related issues. From minor repairs to complex installations, our skilled plumbers are equipped to handle it all with precision.
Prompt and Reliable Service
We understand the urgency of toilet repairs and installations. That's why we pride ourselves on providing prompt and reliable service. When you reach out to Wilco Home Services, you can expect a swift response and efficient solutions. Our crew is committed to arriving on time and completing the job promptly, minimising disruptions to your daily routine.
Quality Toilet Repairs and Installations
Quality is at the forefront of everything we do. When you choose Wilco Home Services, you're choosing top-notch workmanship and durable solutions. Whether blocked toilet repairs in Sydney or installing a new one, we use high-quality materials and follow industry best practices to ensure your toilet operates flawlessly for years.
Competitive Pricing
At Wilco Home Services, we believe quality plumbing services should be available to everyone. That's why we deliver competitive pricing for our toilet repairs and installations. Our transparent pricing ensures you receive value for your investment without hidden costs.
When you choose Wilco Home Services, you're choosing professionalism, reliability, and expertise. We take pride in being your go-to partner for toilet repairs and installations in Sydney. Reach out to us today to experience our exceptional service firsthand.
Toilet Repair FAQs
How do I know if my toilet needs repair or replacement?
How long does it take to install a new toilet?
Do you offer warranties on toilet installations?
Can you fix a leaking toilet?
Can you install a bidet or other toilet accessories?
Get Your Toilet Repairs & Installations Done Right
Ready to experience hassle-free and reliable toilet repairs and installations? Trust Wilco Home Services to deliver top-notch solutions that meet your needs. 
Contact us today and let our skilled plumbers care with professionalism and precision for your toilet plumbing needs. Your satisfaction is our priority!